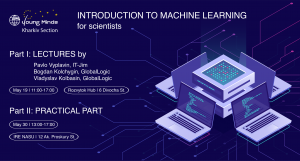 The Young Scientists Council of IRE with the support of EPS Kharkiv Young Minds Section has prepared an excellent event – Workshop on Computer Learning (for scientists). The workshop is designed specially for young scientists who might be interested in using machine learning in their research, as well as for those who would like to expand their understanding of what is going on in this area, and even for those who have no idea of what machine learning is, but would like to find it out. The workshop will be held on two days: a lecture day on May 19 and a practical day on May 30.
The material of the lecture day (May 19) is structuted in theorder of increasing complexity – in the first lecture general points will be presented, while the next two lectures will provide more specific material. What is important is that we are planning a practical part (May 30) where we can try something. Detailed instructions for the practical part will be given closer to the event. For everyone, after the practical part, a tour around the institute will be conducted.
Admission is free, registration is obligatory. The language of the event is Russian.
(!) The date of the practice (May 30) might be changed, follow the event on
Facebook: https://www.facebook.com/events/977849869073582/
Registration day1: https://forms.gle/JGHi7h9v1716a6XJ6
Registration day2: https://forms.gle/B8XsnG31h12AKicbA
Instructions for the practical part, as well as the exact date of the practice, will be sent to registered participants.
Questions? Fell free to write us: ire.ys.council@gmail.com