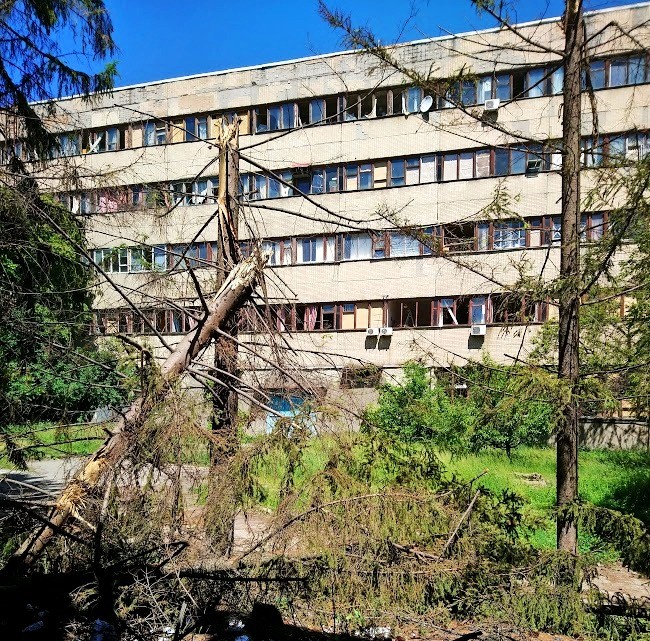 Dear colleagues, dear friends.
For a long time O.Ya. Usikov Institute for Radiophysics and Electronics of the National Academy of Sciences of Ukraine has been both a leading scientific center in Ukraine and a world leader in many areas of radiophysics research. Throughout more than 65-year history of the Institute, it has been connected by partnership and friendly relationships with many Ukrainian and international scientific centers and research groups.
Many of you have participated in international conferences MSMW, MMET, and international young scientists forums, which have been held by the Institute for many years. We are collaborating with all of you on the implementation of many international and Ukrainian R&D projects.
Since the beginning of the russian aggression, our institute is appeared in a very difficult situation since it is located exactly where the active combat took place. Our infrastructure suffered serious damage from shellings and bombings. Now the buildings of the Institute look like:
The buildings and a large part of our scientific equipment are seriously damaged. The heating system is partially out of order, more than 600 windows do not have glass anymore.
Now the employees of the Institute, who stay in Kharkiv, work under conditions of daily shelling. We remove debris, try to save equipment, cover windows, and prepare the laboratories and staff rooms for the winter every day. This work requires significant human and material resources. Our own reserves and a limited funding from the state are insufficient to solve these problems ourselves. We are sincerely grateful to the volunteers who provided the Institute with building materials. They have been spent already for covering part of the windows. However, the situation is critical if we will not be able to prepare our buildings for winter as freezing in our region can cause a lot more damage that has already been done.
Fortunately, we are not alone in this terrible situation. . We have real friend such as the world scientific community and we are kindly asking you to support us in this very difficult time for us. We will be grateful for any help. Hopefully with your support we will restore our Institute back to operation.
All funds that we will receive from you will be spent exactly to the materials for the renewing of the Institute infrastructure. We will provide a full report for every penny, every cent.
July 29, 2022
Institute Staff
Account numbers for financial support of the Institute:
1. Account for charitable assistance in UA hryvnia
IBAN: UA698201720313211001301003504 (UAH).
Beneficiary: O. Ya. Usikov Institute for Radiophysics and Electronics of the National Academy of Sciences of Ukraine
EDRPOU: 03534593
Bank: Derzhavna kaznachejs'ka sluzhba Ukrainy, m.Kyiv
MFO: 820172
2. Account for charitable assistance in US dollars:
IBAN: UA053223130000025306000000155 (USD).
Beneficiary: O. Ya. Usikov Institute for Radiophysics and Electronics of the National Academy of Sciences of Ukraine
Beneficiary Bank: JOINT STOCK COMPANY 'THE STATE EXPORT-IMPORT BANK OF UKRAINE'
S.W.I.F.T.: EXBS UA UX
Correspondent Bank: DEUTSCHE BANK TRAST COMPANY AMERICAS, New-York, USA
S.W.I.F.T.: BKTR US 33
Account: 04094227
3. Account for charitable assistance in EUR:
IBAN: UA053223130000025306000000155 (EUR).
Beneficiary: O. Ya. Usikov Institute for Radiophysics and Electronics of the National Academy of Sciences of Ukraine
Beneficiary Bank: JOINT STOCK COMPANY 'THE STATE EXPORT-IMPORT BANK OF UKRAINE'
S.W.I.F.T.: EXBS UA UX
Correspondent Bank: DEUTSCHE BANK AG, FRANKFURT AM MAIN, GERMANY
S.W.I.F.T.: DEUT DE FF
Account: 100 9498767 10 EUR
Contact person:
Oleksandr Kogut
Mobile: +380 97 471 2004
E-mail: hazar70@gmail.com