The committed research activities of the members of our Department, their presentation and popularization of scientific achievements of the Institute both at home and abroad were consistently praised and awarded.
In 2011, K.W. Illienko, PhD, Senior Scientist, won a prestigious international prize for outstanding commitment during the first decade of independent scientific career (2011 IEEE NPSS Early Achievement Award) awarded by the Nuclear & Plasma Sciences Society and the International Institute of Electrical and Electronic Engineers (IEEE).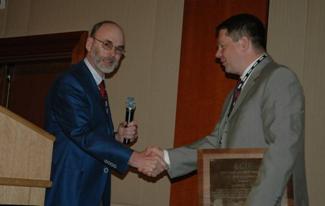 K.W. Illienko accepts the IEEE NPSS award in Chicago, USA (handed over by Prof. Steven Gold from U.S. Navy Research Laboratory)
In 2011, on the occasion of the Day of Science, the Kharkov municipal governmental authority awarded A.S. Tishchenko an Honorary Certificate for a significant contribution into the progress of the national science, professional excellence and enthusiastic scientific work.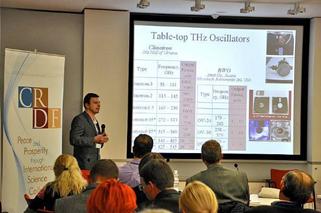 A. Kuleshov presenting terahertz sources
In 2012, A.N. Kuleshov won the prize awarded by the CRDF Global foundation for the best presentation entitled "First Step to the Market Competition", and in 2013 he received one more prize, "Best Business Pitch Competition", from this foundation.
In 2012 the young scientists S. Kishko and S. Ponomarenko were awarded Ukrainian Presidential Scholarship and scholarship of the National Academy of Sciences of Ukraine.