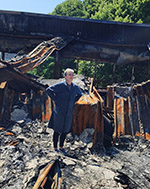 A scientist, if he really is, is a special person. The scientist sees a challenge to his intellect where others see insurmountable circumstances and arguments to retreat, a sort of "problem with an asterisk". There are many approaches for each of such a problem. I will mention the only a few of them: to solve the problem as cheaply, as quickly as possible, as creatively, exactly as someone else or in a completely different way, or to look for an optimal solution. Even such a problem as replacing broken glass in the windows finds a suitable set of solutions, although the input parameters are only few and they are the same for everyone: polyethylene film (not the best quality), cardboard (quickly over), OSB-plates (there were very few).
Looking at the intermediate result of our efforts, presented in the photo, you can see a wide range of proposed creative approaches and obtained results.
In the future, we will briefly inform you about the results of our work.